When people hear the term Kutch, the first glimpse that pops up in their mind is a desert, covered with miles and miles of salt that makes it look pristine white. Indeed Kutch is famous for its White Rann, which is a nature's marvel that is marshy during monsoons and returns back to its snowy white splendor during summers and winters.
The White Rann of Kutch receives the maximum tourist attention, but that's not what this blog is about. We have been to Kutch very recently on a Road Trip and we can assure you that there is much more to explore than just the Rann. Read on to find out those lesser-known facets.
Wildlife Safari
Not many people know that Kutch has multiple sanctuaries to be explored. Kutch infact houses the largest Wildlife Sanctuary in India – The Indian Wild Ass Sanctuary. The Little Rann has low grass covered regions known as the Banni grassland, which forms the base of this wildlife sanctuary. The best time to pay the Wild Asses a visit would be post monsoon months when the grasslands are replenished and several of them can be found grazing around. The best time for a wildlife safari is December to March, post that the summer heat starts building up.
The fact is Kutch also houses the smallest sanctuary in India – Kutch Great Indian Bustard Sanctuary, spread over only 2 sq km area. The Great Indian Bustard, locally known as 'Ghorad' is an endangered species and are now very few in number.
Another noteworthy location for the wildlife lovers is the Chhari Dhand, the seasonal desert wetland that gets swamped only during a good monsoon. 'Dhand' in Kutchi language means a saucer shaped depression and Chhari Dhand is the largest of such shallow water bodies. The place is a paradise for bird watchers. Several migratory birds can be spotted here. You can plan to spend some time with a local guide understanding the flora and fauna of the region.
History unfolds at Dholavira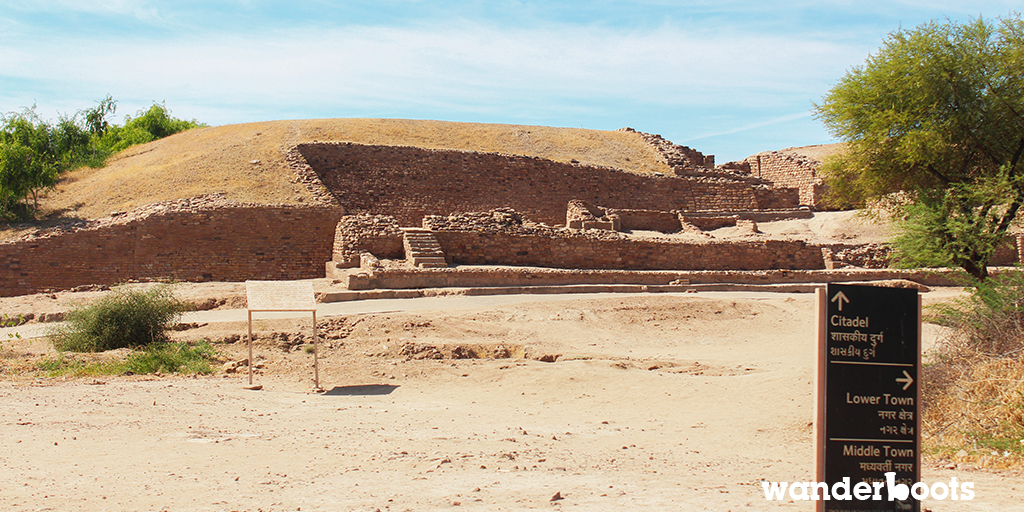 If you are in love with History and Architecture like us, you are bound to put Dholavira up in the itinerary. Its an excavation site of one of the ancient river valley civilizations of the world – The Indus Valley Civilization. Its located in the Khadir Bet island.
While we have all read about Mohindojaro, Harappa and places like Lothal in our history books, unfortunately we don't remember reading about Dholavira. Perhaps because its one of the most recent discoveries. The excavation has been on since 1990 and there is a lot more area that still needs to be excavated.
Here you will be amazed to see the meticulous city planning with the region divided into a citadel, middle and lower town, all made in sun dried bricks and stone masonry. You can witness one of world's earliest water conservation and drainage systems that can put the most modern cities to shame. The local guide took us underground into one of the rock cut canal to explain the complex structures. Your jaws will drop in awe at the ingenuity of the people in that era, who made such an advanced rain water harvesting system, to sustain life in a place with scanty sweet water.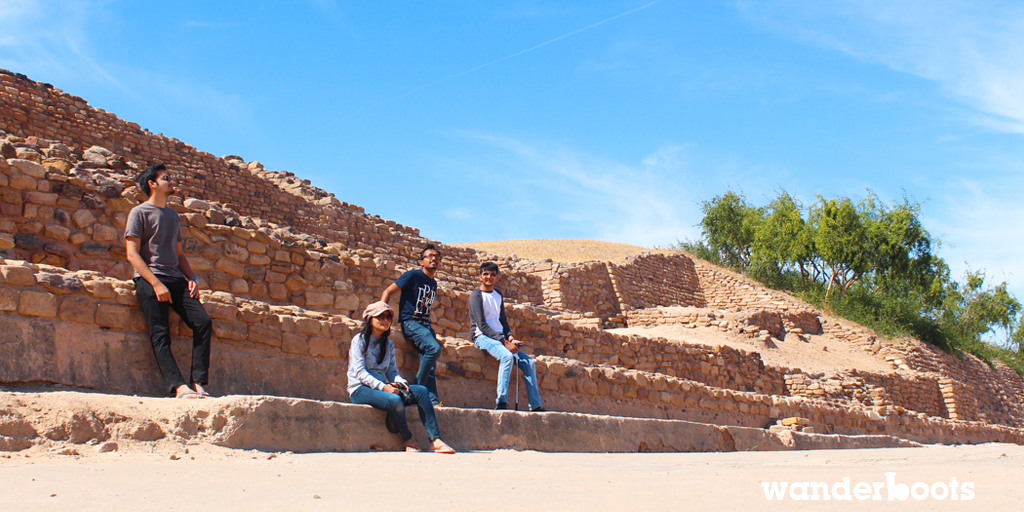 You can take pride in standing on the remains of what was once a thriving metropolis and an important trading point of the world and housed 7 phases of Harappan settlements for over 1200 years (3000-1800 BCE).
The Museum within the campus gives a good overview of the history of the place and displays some interesting excavated objects.
Scenic Beaches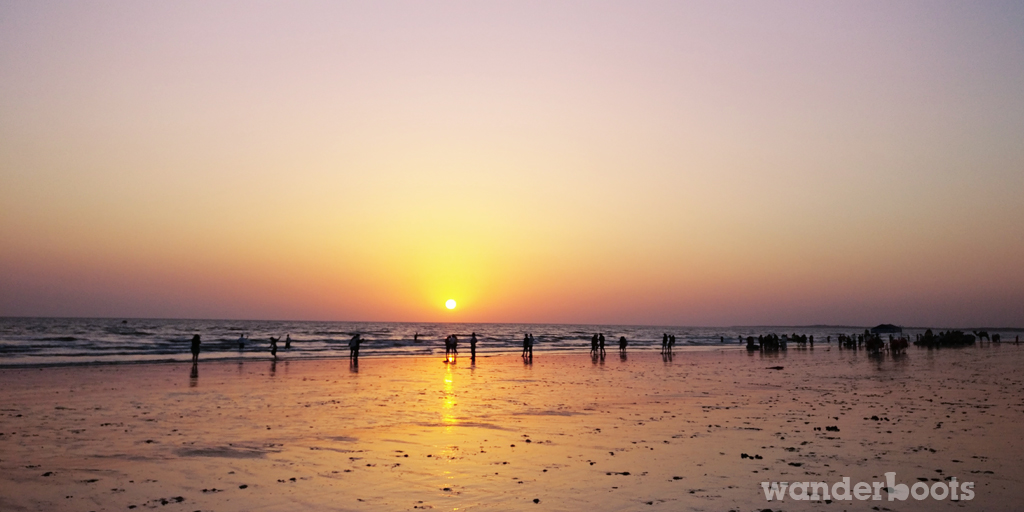 If you are a beach lover then Kutch has a few beaches that can lure you and the most famous among them is the Mandvi beach. Mandvi remained one of the principal ports for ages. The windmill view is unique to this beach here.
While the beach does get a little crowded during the evening, you can opt to sit back and enjoy the sun going down, take a camel ride or just stroll around on the soft sand enjoying the breeze. If you are into water sports, this beach offers some good options like Parasailing, Jet ski, Banana boat and ATV drive on the beach sand.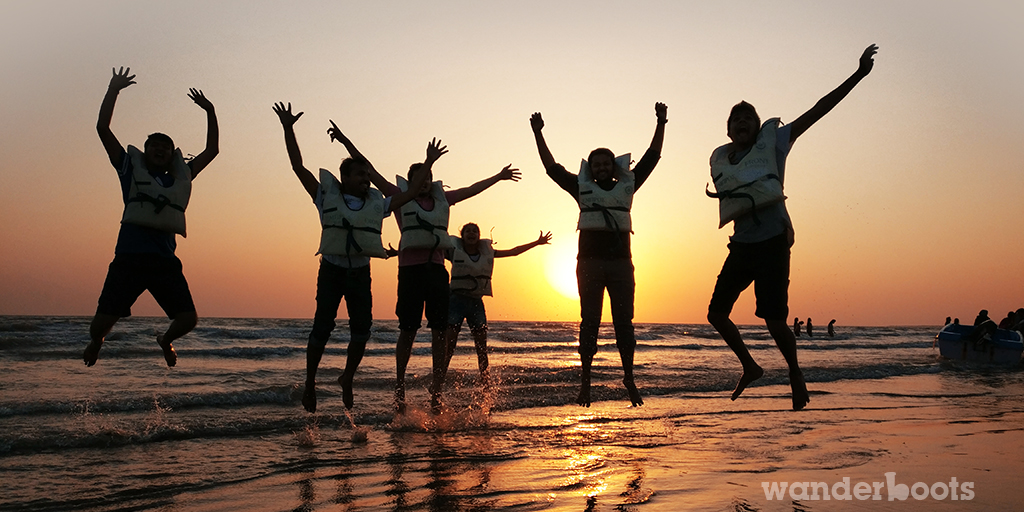 There are changing rooms pretty close to the beach, which is an added advantage.
You can visit the ship building yards near the Rukmati river where you can witness wooden ships still built by hand.
Visit the nearby Vijay Vilas Palace which has been the shooting location of popular Bollywood numbers from 'Lagaan' and 'Hum Dil De Chuke Sanam'.
Do not miss out on the local double roti which originated here in Mandvi – The Dabeli.
Views from the Kalo Dungar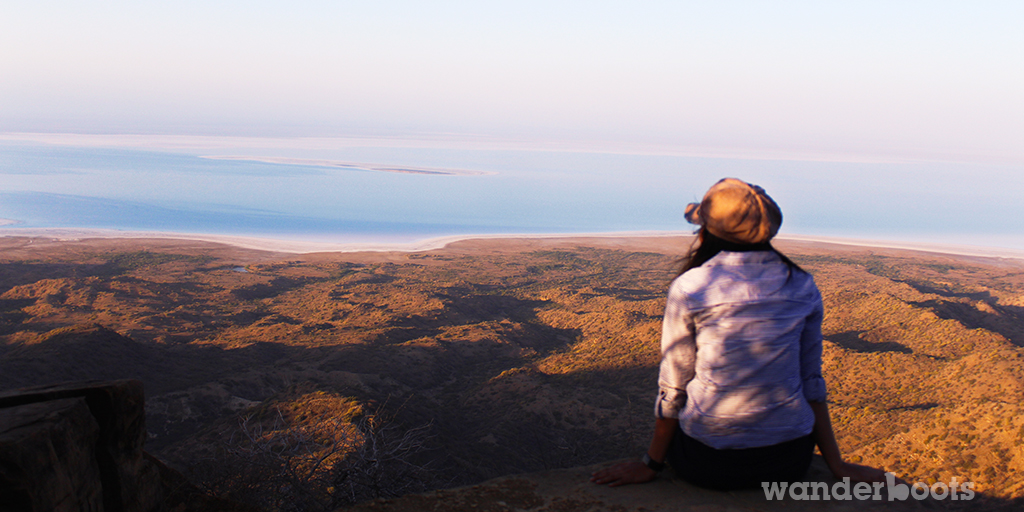 Your visit to Kutch will be incomplete without a visit to Kalo Dungar, the highest point in Kutch. Its at a height of 1516 feet above sea level and around 89 Kms from the Bhuj city. Its famous for the 400 years old temple dedicated to Lord Dattatreya. The legend goes that when Lord Dattatreya walked on earth, once he rested on these Black Hills where he encountered a pack of hungry jackals to whom he offered his own body as food. As these jackals fed on him, the body kept regenerating. To continue this tradition, the priests at this temple have been known to feed the jackals every noon. We didn't witness any jackals as we went there during sunset, but I presume even if you be there at noon, the chances of sighting a jackal may be little.
We have also heard about the magnetic properties of the hill that can make any vehicle move against the gravitational force up the hill, at a particular spot. We couldn't witness this either as we had to head back quickly post the sunset.
But what I will recommend this place for is to witness the best sunset that you can see in Kutch. The view from the top is spectacular. Never imagined that views of wilderness and barren land can be so scenic. With a good binocular you can even view the India Bridge, beyond which is the Indian Army outpost guarding the border with Pakistan.
A word of caution that before you head for this place make sure your vehicle is fuelled sufficiently as there are no refilling stations on the way.
A Rendezvous with Fossils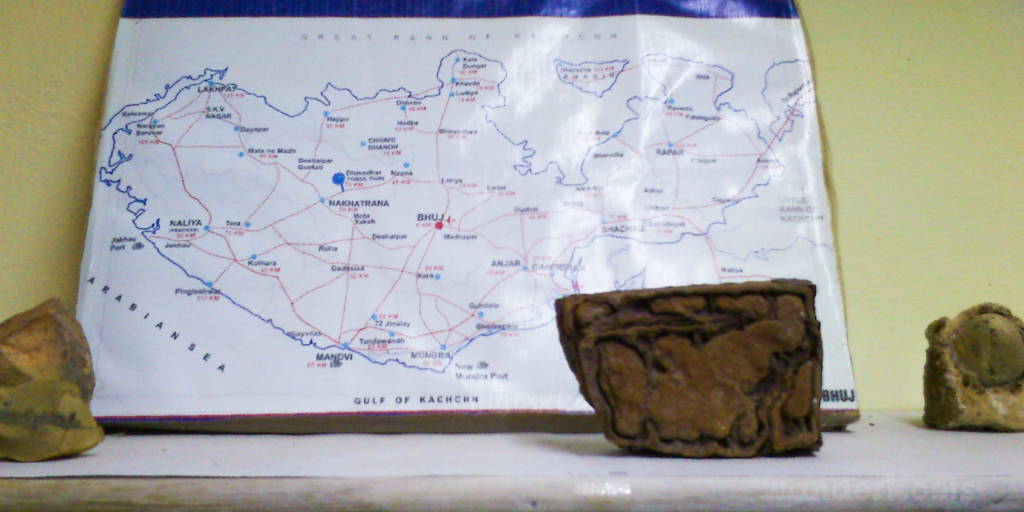 If you are done with enjoying the scenic beauties of Kutch you can let yourself feel astonished once more by visiting the Fossil Park near Nakhatrana. No, you don't have to be a paleontologist to appreciate it. This park has great collections by an individual named Mr. Mohansinh Sodha, a visionary, who has travelled the length and breath of this region searching for fossils. He has collected them all over last 40 years and put up for display in a two room private Fossil Museum.
Mr. Sodha takes your around himself with great zeal, explaining the different types of dinosaurs and fossils. Its an enlightening experience. He is extremely hospitable and you can also enjoy home stays in traditional circular huts called 'Bhungas' and relish an authentic Gujarati thali. He has also discovered a new species of Sea-Cow in a research jointly conducted with IIT Roorkee.
This place is not funded by the government and he has maintained the place all by himself. This place is highly recommended as such priceless treasures and efforts need to be appreciated.
Liked the story? Show your love by sharing it with anyone who's into travelling.
Have you been to Kutch? What are your top picks for being there other than the Rann of Kutch? Share with us.