You might be wondering why do you need to know the best place in Kutch, when it is the only place on earth where you can witness such a feature. But hey, let us tell you that there are multiple points of entry into The White Rann and if you are going by the Rann Utsav website only, you are clearly missing out on something special. Read on to discover the secret location we are going to reveal today.
But first, here are some facts. The Great Rann of Kutch is the world's largest salt desert measuring around 7,500 sq. kilometers. Nowhere in the world will you find a landscape and a geographical feature equivalent to this, which turns marshy during monsoons and returns back to its snowy white splendour during summers and winters. It's truly a nature's marvel.
The best time to visit Kutch for The White Rann will be between November and March. The region gets too hot during summer months, so we would suggest you avoid those months. But do check the local weather before visiting, because if it rains, the whiteness disappears and the place turns wet and murky.
Mostly tourists go to view The White Rann near Dhordo, roughly 86 kms north of Bhuj. This is the site for the Rann Utsav which takes place between November and February. A tent city grows up here for the visitors during the festival, along with rows of food and handicraft stalls. Dhordo is at the southern edge of the white desert and hence has been developed as a perfect gateway to the Rann.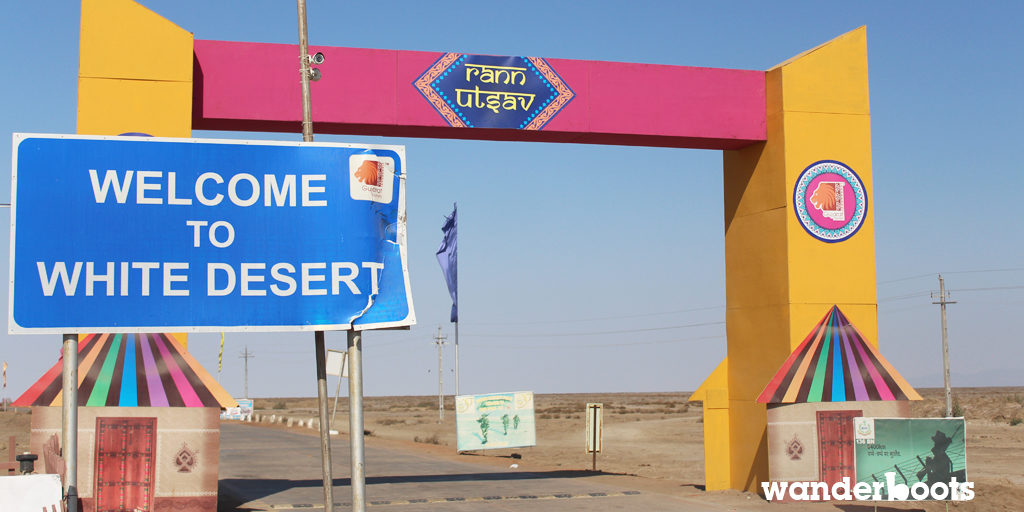 Because of its proximity to the Pakistan border, you would have to take a written permit, which is easily issued on producing a valid id proof, at a checkpoint on the way to Dhordo. This needs to be presented at the army checkpoint at the entry to the White Rann. You can drive upto this army checkpoint in your private vehicles, post which it's the shuttle bus that takes you 2kms further in. From there you would have to walk a good 1 km to reach a point where you can actually lay your foot on the white desert.
I would recommend visiting The White Rann atleast twice – morning and evening, because the views are different. While the enormous endlessness of whiteness can enchant you during any normal day, the atmosphere is just surreal in Rann of Kutch on a full moon night. Glittering stars above and sparkling white salt crystal below
WanderBoots TravelTip: Refer to the lunar calendar for India on Google and plan your Kutch visit around the Full Moon Night only in winters
The Rann Utsav White Rann is a decently good experience. You would see white endlessness but interspersed with some tourist crowd. The experience can be good enough provided you could handle lots of noisy people around shouting and cheering and going crazy clicking selfies. In the evening you will have them clicking pictures with their flash-lights on. However if you are the one who would like to spend some peaceful moments around, soaking in the beauty of the place, you will crave for another location. If you are a photographer and donot want your clicks to be ruined each time with someone barging in, head on.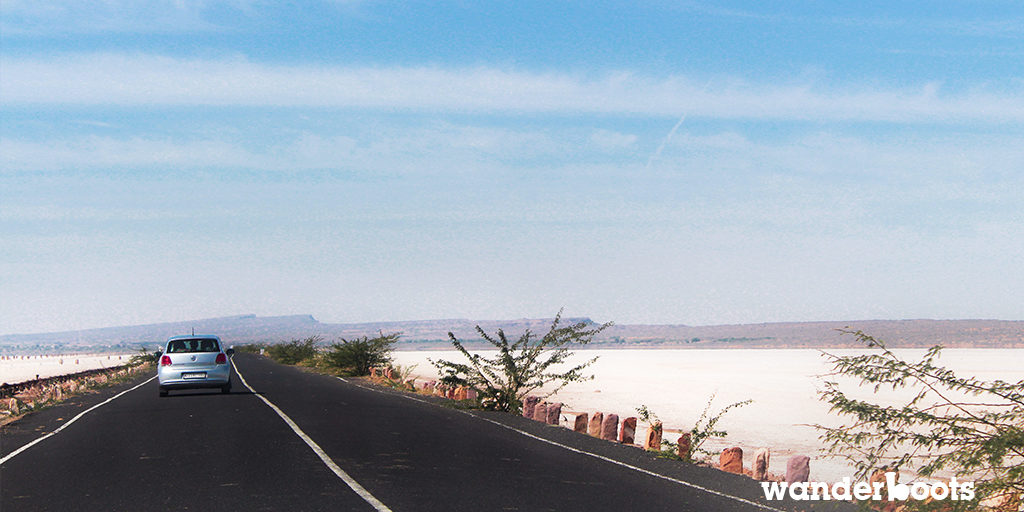 For stunning views of The White Rann, you should first head towards Dholavira – the site for excavations of The Indus Valley Civilization era that was discovered recently. If you are a history junky, spend some time here to appreciate the amazing town planning skills of one of the oldest civilizations of the world.
On your way to Dholavira once you go further from Lodrani towards Khadir Bet, you will witness a straight-absolutely straight road passing through the Rann of Kutch Lake. If you are visiting during winters, the lake would have dried up and you would see white salty flats on both sides. The drive through this belt is unforgettable.
After exploring DholaVira head further 10kms north via the Dholavira-Janan Road to reach the Fossil Park. Before you get excited, let me clarify that do not expect to find any dinosaurus' eggs or ribs here. What you would actually see here are large trees of pre-historic times, stuck in between rocks – basically plant fossils.
The road will terminate at a point from where you can get stunning panoramic views of The White Rann. Leave your vehicles here, walk yourself down amidst the rocks and you will find yourself standing on a vast land of salt.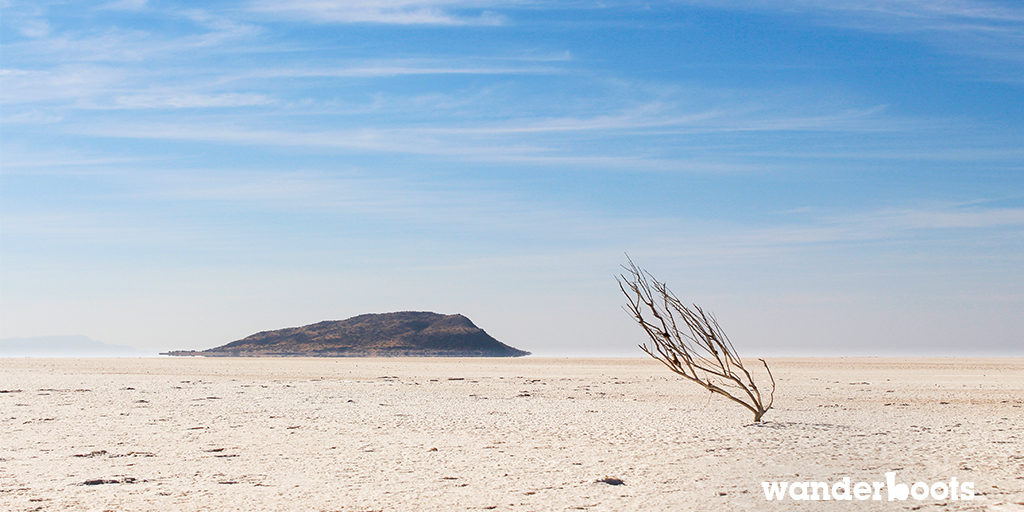 What makes this place unique and spectacular is the complete lack of crowd here. The setting of the blue beautiful Bhanjano Hills towards your left in the backdrop adds to the already picturesque landscape. You can walk for millions of steps into the white desert.
You will get innumerous photo points. Let your imagination go absolutely wild and try clicking crazy poses – ones that can go viral on instagram.
WanderBoots TravelTip: On the White Rann, go wild and try clicking crazy poses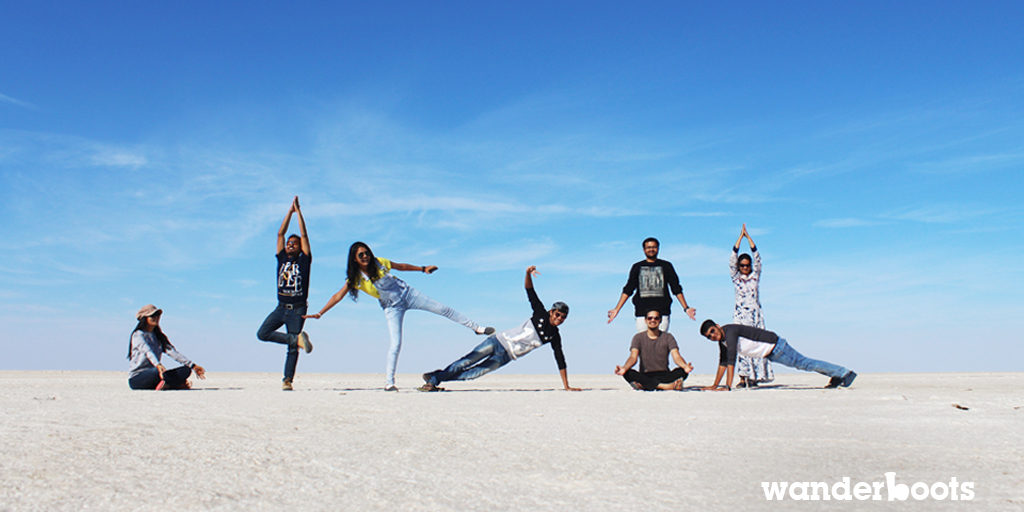 While it's the best place to witness The White Rann, the place is remote. It wouldn't be a good idea to stay till late evening until you have your own vehicle or you are staying at Dholavira. So if you are coming from Bhuj, unless you have your own vehicle, you can take a bus to Rapar, which is the largest town near Dholavira and from there you can board private or government buses to Dholavira. However if you want to cover this place even before reaching Bhuj, you can get down at the Bhachau railway station and move to Rapar and then on.
As I mentioned, the positives of this place is that its completely desolate and you can relish The White Rann all to yourself. Plus you do not need any permit to visit this place. The flip side is that this place is so remote that it's a better option only if you have your own vehicle or a hired cab or you visit it early morning and are ready to return by the last bus from Dholavira towards Rapar which leaves in the afternoon.
Have you visited the White Rann of Kutch? What was your experience? Share with us.