Ever since we heard Amitabh Bachhan in the inviting Gujarat Tourism commercial, we have been dying to visit Kutch. We finally made it in February 2017 when we went on a Road Trip to Kutch. We can now assertively say that there couldn't have been a truer statement than "Kutch nahi dekha to kuch nahi dekha", to describe the region. It was once in a lifetime experience.
Are you still contemplating? Read on to find out why Kutch should be next on your travel bucket list
1. Fantastic Roads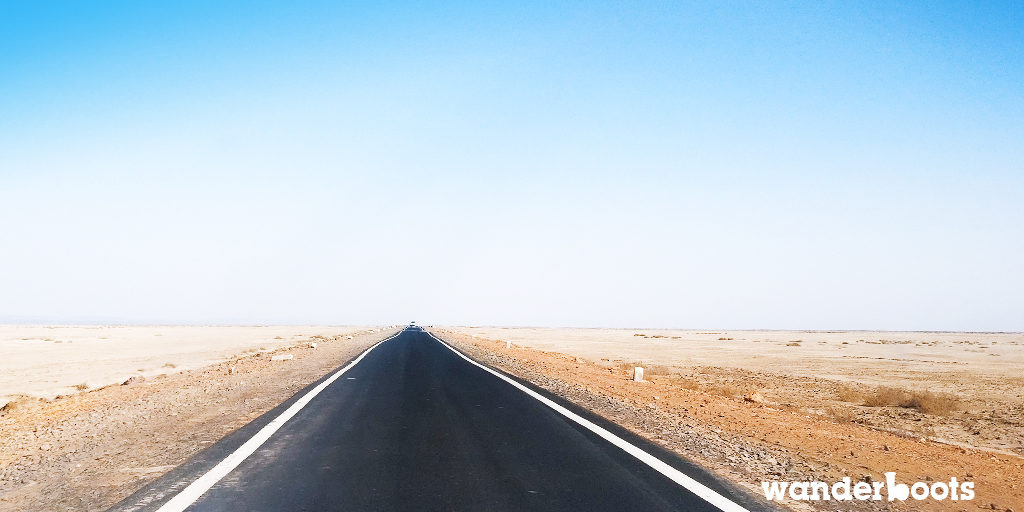 If you are the one who relishes a road trip, get ready for one of the most memorable drives you have ever had. Butter smooth roads await you in Kutch.
Hats off to Gujarat government for almost setting the gold standard in maintaining roadways all throughout the state. We drove from Mumbai to Bhuj, around 860 kms in less than 12 hours, even with occasional breaks. The roads are awesome and we had forgotten the face of a pothole until we were back in Mumbai. It was officially my first long road trip, barring those to weekend getaways near Mumbai, and I swear I drove above 130 kmph for most part of the trip.
Even though Kutch is the largest district in India, and most of it is a wasteland and un-inhabited, deserts run for kilometers at a stretch, each nook and corner of Kutch is well connected by roads, and roads of fine quality. Even the remotest villages had good roads running past them.
I would heavily recommend Kutch for bikers and road trippers.
2. The White Rann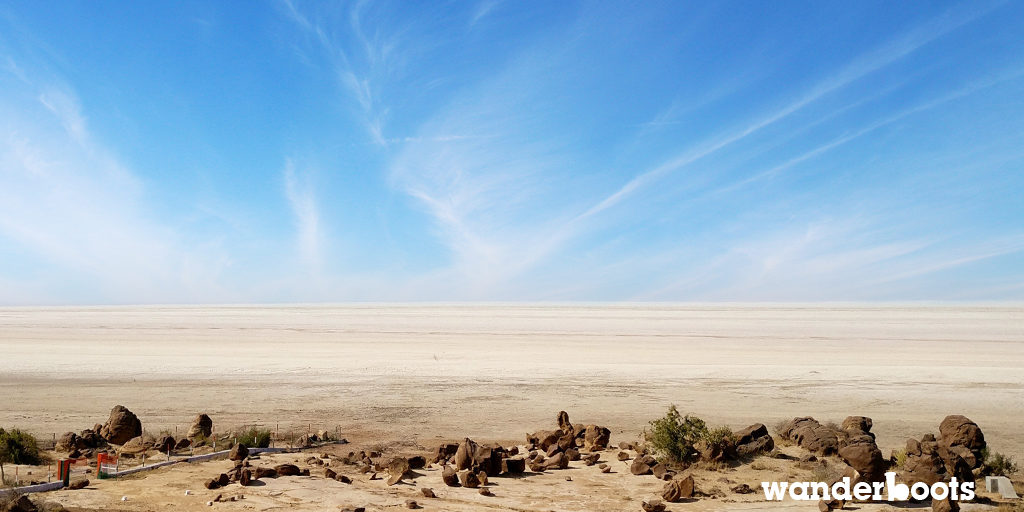 This is what you would have witnessed in most ads and images of Kutch online. Hypnotic probably is an under-statement to describe the spectacular place. Vast expanse of fascinating and gripping white beauty.
Nowhere in the world will you find a landscape and a geographical feature equivalent to this, which turns marshy during monsoons and returns back to its snowy white splendor during summers and winters.
The Great Rann of Kutch is world's largest salt desert measuring around 7,500 sq. kilometers. The best time to visit Kutch for the White Rann is between November and March. The region gets too hot during summer months, so we would suggest avoid them. But do check the local weather before visiting, because if it rains, the whiteness disappears and the place turns wet and murky.
The Rann has several entry points and you should choose the best gateway to The Rann of Kutch to perfectly experience it.
While the enormous endlessness of whiteness can enchant you during any normal day, the atmosphere is just surreal in Rann of Kutch on a full moon night.
WanderBoots TravelTip: Refer to the lunar calendar for India on Google and plan your Kutch visit around the Full Moon Night
3. Variety like no other place
If you thought Kutch is only about the White Rann, then you are clearly mistaken. I would say the region of Kutch presents a variety of geographies second only to Ladakh, where I have seen landscapes changing every few kms. It has vast arid lands, biggest saline desert, huge coastline with estuaries, mountains and low grasslands.
Apart from these, you can have the beautiful palaces of Bhuj, the Indus Valley civilization excavations at Dholavira , water sports at Mandvi beach, the breathtaking view from Kala Dungar and the fort of Lakhpat on your itinerary. You can top it up with a visit to the wildlife sanctuaries. There are multiple wildlife sanctuaries in Kutch like The Wild Ass Sanctuary, the Narayan Sarovar Sanctuary and Chari Dand wetland reserve for the wildlife lovers.
Have you heard of camels that can swim? Yes, this unique breed called Kharai camels does exist in Kutch.
4. Bird watcher's paradise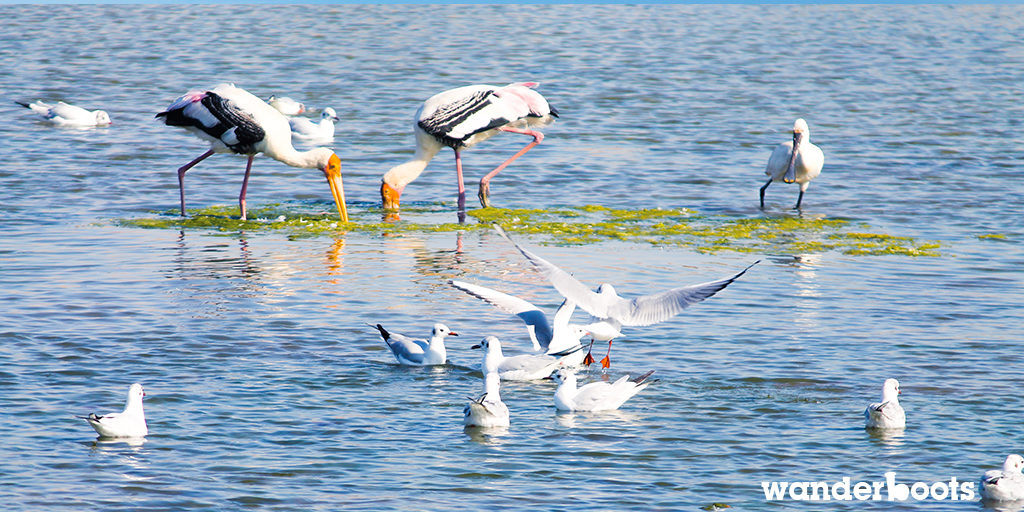 Kutch is famous for its Flamingos, which flock here in huge numbers in winter to breed. The best part is that you need not always visit a particular location, like the lesser known Flamingo City, to spot them. Infact we could see them almost on every other water body amidst the dry arid land. The view of these pink birds on the blue water backdrop is a sight to behold not only for bird watchers but for any true nature lover.
Actually you can observe a lot of bird species in the region – from pelicans, storks, ibises, spoonbill to houbara bustard and spotted sandgrouse.
5. The Colourful and Hospitable Kutchi Villages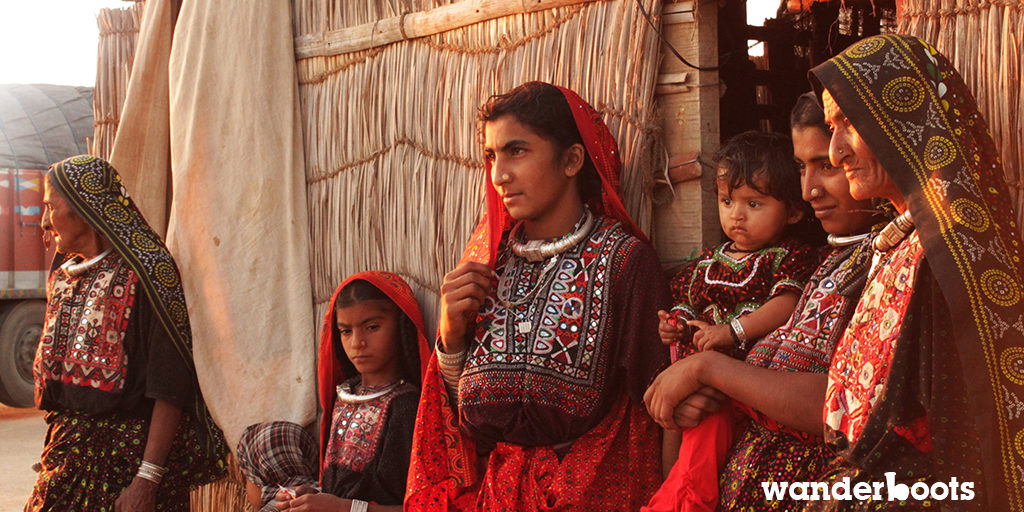 The heart of Kutch lies in its villages. While most of them bear a deserted look, with majority of the population having migrated to bigger cities like Mumbai, there are some artisan villages inhabited by indigenous tribes of Kutch.
Despite the harsh climatic conditions of the region, the colourful attire of the villagers, the amazing art and handicrafts skill as well as the rich culture would lure you to the villages in Kutch. Its in these villages that the amazing Chaniya Cholis get made with intricate embroidery and mirror work. The fabulous Bandhini dupattas, the colourful Batik prints, they all come from Kutch.
We recommend you stop over at villages and go round them either by yourself or a local guide. The villagers are most welcoming and cordial. You might like to converse with the families, spend some time understanding their lifestyle and witness the creation of some of the finest handicrafts by your own eyes. You shouldn't miss visiting villages like Dhorodo, Samrasar, Ludia, Hodka to name a few. You will surely return with a lot of gifts for your near and dear ones.
If you have already visited Kutch, I am sure there are even more reasons hovering in your mind, that should make the wanderluster rush to Kutch. Share them with us.
Have you been to Kutch? What was your experience?