Hampi, the former capital of the Vijayanagar empire, remains one of the top destinations to be visited in India. The architectural ruins of Hampi in Karnataka are a UNESCO World Heritage Site. It's a destination that equally fascinates people having interest in Art & Architecture to those into photography to the rock-climbing enthusiasts, who term it the bouldering capital of India, due to its rocky terrain.
I have been there a couple of times and have realised that while there is a lot said and written online about 'What to do in Hampi', if visitors could also know 'What NOT To Do' in Hampi, their overall experience of the place will be elevated. That's when we decided to pen down our views here.
1. If you are fit, Do Not take an auto ride or a cab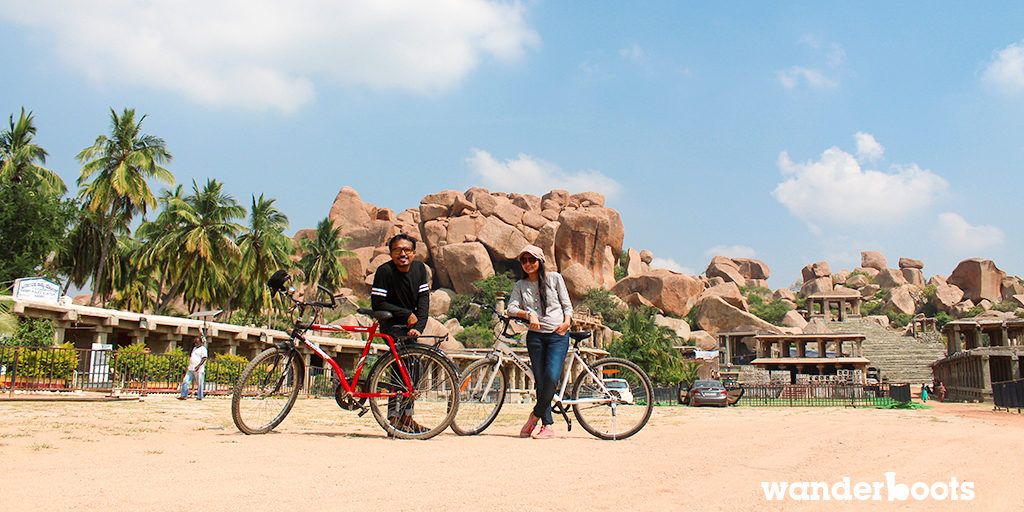 Most visitors would have gone round Hampi either renting an auto rickshaw that takes around Rs. 800-1000 for the important sights. Many prefer to take a cab rental from Hospet itself. There's nothing wrong in it as the place is extremely dry and hot in most seasons. But on your way you will miss out on several shrines, rock cuttings and vantage points, where your cab or auto driver wouldn't be stopping.
The real pleasure of going around exploring Hampi is on a bicycle. Almost each rock in Hampi has a tale to narrate and you can best experience the same when you pause occasionally, spend time understanding each site and then move on. That's exactly what you can do on a bicycle ride.
Bicycles are easily available on rent in Hampi at around Rs.150/day- helmet and lock included. You can take them from near the Virupaksha temple.
Take the bicycle ride, enjoy Hampi at your own pace. If you are a photographer, you will love this. Stop by the river, wherever you want, take rest, soak in the beautiful landscape and then move on. Do a bit of offroading, go over the rocky terrain and take a shortcut from Virupaksha to Vitthala temple complex.
Disclaimer: If you are doing off-roading, certain places might require you to carry the bicycle on your back to cross over a rocky terrain.
2. Do Not cross Tungabhadra on a ferry (read Do Not miss the Coracle Ride)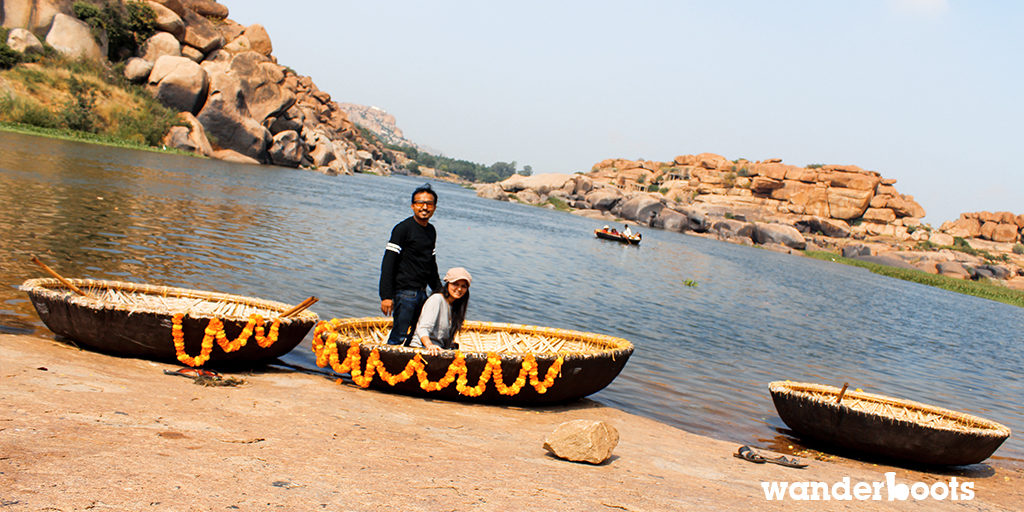 I can understand after having heard so much about the Other Side of Hampi, you would like to set your foot there as soon as possible. Let me tell you crossing the beautiful Tungabhadra river is in itself an experience – taking the small lane near the gate of Virupaksha temple, going down the steps to reach the ghat, waiting for the ferry, boarding the same when it arrives, sharing space with scooters and bikes which are also ferried across– its quite unique a feeling.
However let me tell you there is a more remarkable style of crossing the river. Hold on! Swimming is not recommended. But then there are these basket shaped, circular primitive country boats known as coracles (Teppa in Kannada) which can make it much more adventurous. These are made of bamboo interwoven in a lattice framework with plastic and bitumen to make the base stronger and heavier.
It can go pretty fast in spinning motion and holds upto 5-6 commuters. The rowers would make some seating arrangements to ensure that the weight is evenly distributed as these can capsize very easily. Sit back, relax and enjoy the sight of other coracles floating by, racing each other to cross over at the earliest.
You can also choose to go on a coracle ride during sunset, enjoying the perfect "me-time" in a calm, peaceful environment. Depending on the distance you want to travel you will have to shell out anything between 150-300 per person. You will pass through many mighty boulders and the rower boys might show you various ruins and stone idols of Nandi on the rocks. While the river looks placid there can we undercurrents. You might spot a whirlpool in the river. There's also a board cautioning visitors about crocodiles. Doesn't that add to the thrill!
Disclaimer: Coracle ride is not for the weak hearted ones. If you are not the adventurous kind you can stay away from the coracle ride.
3. Do Not Stay in Hospet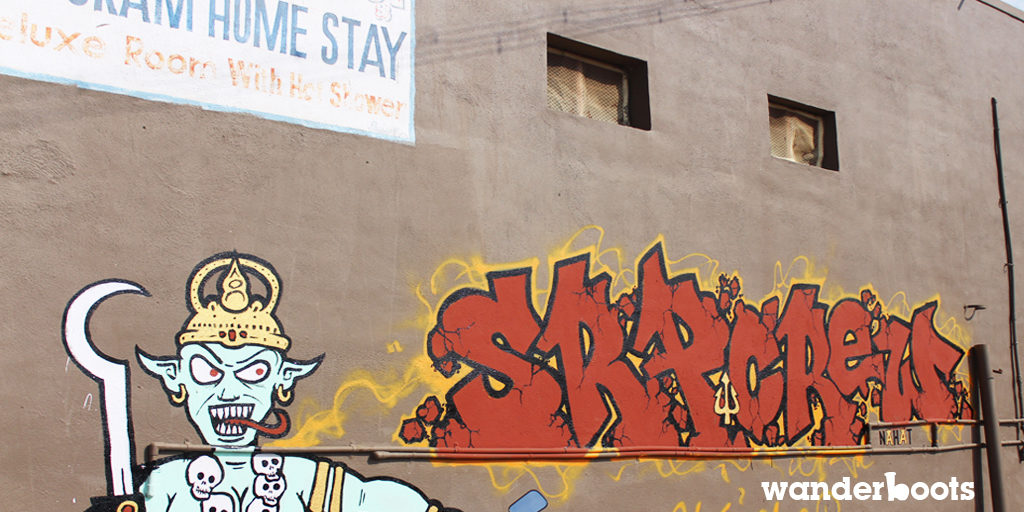 One of the biggest mistakes that we had done in one of our earlier visits was to book an accommodation in Hospet and trying to commute to Hampi everyday. Most online forums including TripAdvisor would propose best places to stay far from the Hampi main city. While there is an excellent bus connectivity between Hospet and Hampi, leaving almost every 20 mins from the Hospet bus station, the last bus back from Hampi is at 7:30pm and you would have to wind things up pretty early after sunset and head back. What you will loose out is soaking in the village culture there.
The best place to stay and enjoy Hampi perfectly is on The Other Side of Hampi, across the river, better known as the Hippie side. As the name suggest, this side has plenty of foreign backpacker crowd who stay here for months. This is the place meant to relax and unwind. With interesting cafes, friendly locales, plenty of shopping options and chilled out restaurants serving some fantastic global cuisine, this place has a very comfortable and relaxing air to it.
You can check into any of the Home Stays and Guest Houses here. Some of the well known ones are Bobby's One Love and Gopi's Guest House. They would be much cheaper than the hotels in Hospet.
Disclaimer: If you have a problem with people smoking "stuff" around you, and/or looking for a luxury accommodation then this is not the right place for you.
Have you visited Hampi? What would you recommend not doing or rather not missing out? Do let us know your view.